GeekZone Minecraft
From GeekZoneWiki
GeekZoneMinecraft needs your support
GeekZoneMinecraft is currently down because it needs your support. Running it comes with ongoing costs that GeekZone relies on the community to help with, so please, if you love GeekZone and want to be able to meet other Geeks, please support GeekZone now
GeekZoneMinecraft is the fourth district of GeekZone and is currently the only one in a virtual reality.
District Regent
The District Regent of GeekZoneMinecraft for 2015 is Ashleigh Ryan. Her display name is A5HL31GH
Getting There
You can visit by opening your minecraft viewer and adding the external server -
 minecraft.geek.zone

Rules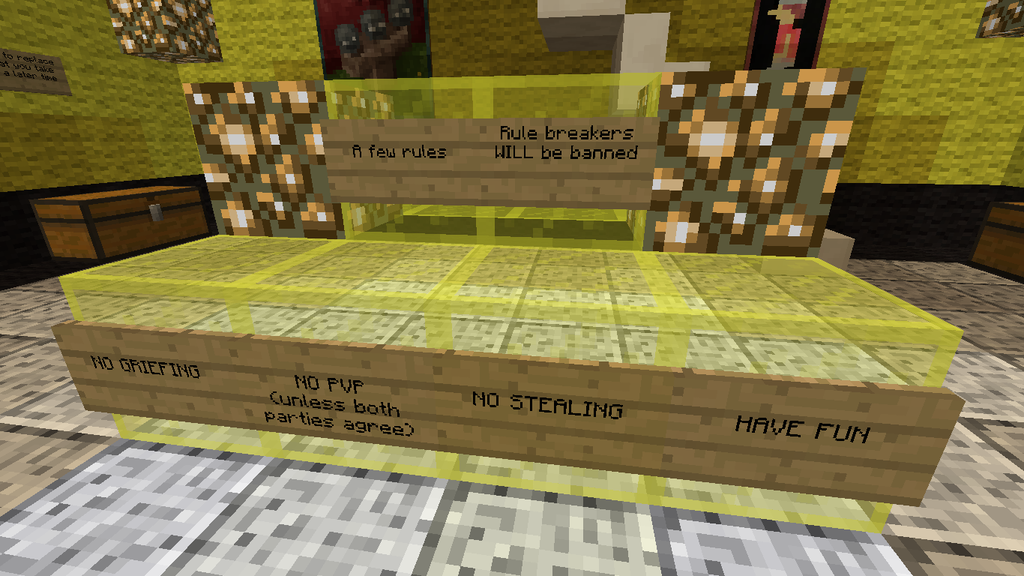 In addition to the GeekZoneConstitution, GeekZoneMinecraft has a few simple rules. This is to ensure the enjoyment of everyone that visits GeekZoneMinecraft. GeekZone may have no choice but to terminate the membership of anyone that breaks these rules, in line with constitution.
Respect what others build

Griefing is the act of irritating and angering people in video games through the use of destruction, construction, or social engineering. Don't do it!

Respect the right to life

Don't kill each other unless you are both happy with it

Respect the stuff that others collect

People work hard to build their resources in GeekZoneMinecraft, don't rob them of that

Farm responsibly

The GeekZoneMinecraft Regents have load tested the server that runs GeekZoneMinecraft and were able to farm approximately 1000 passive mobs before it crashed. Please ensure that you farm responsibly so that everyone can enjoy GeekZoneMinecraft. If you want to help upgrade the server, donate now!

Have fun!

GeekZoneMinecraft is a fun place to meet people and create awesome stuff, so jump in! Anyone found to not be having fun will be banned!!! (Obviously, this is a joke!)
Industry
As it is District 4, its Industry is Fishing
Mods
Post a Mod Installation Request if you have found a mod that you think would be interesting to your fellow GeekZoners. If you would like a feature to be made available, but have not been able to find a mod for it, post that too and everyone will be able to suggest suitable mods.
Headquarters
GeekZoneMinecraft is the first district to have its own GeekZone space, located at 552 77 937. There you will find everything you need in order to get started, such as tools, food, beds and - of course - fishing rods. These chests have been filled by community effort, so remember to give some if you take some.
As GeekZone goes forward toward charity status, we are all looking forward to being able to open even more GeekZone space in every District.
Events
GeekZoneMinecraft runs Minecraft Mondays across all GeekZone Districts.
Got ideas? Propose a new event
Support
GeekZoneMinecraft runs on a virtual servers from Digital Ocean. You can help GeekZoneMinecraft by signing up though us - you'll get $10 free too!
You can also help GeekZoneMinecraft with its ongoing costs by donating directly as well as purchasing merch from the shop!
See Also
External Links